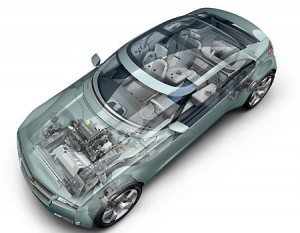 So, the absolute first Volt ever bought was sold the other day in a charity auction for $225,000. At first blush that price may seem outrageous given that the Volt can be had for roughly $41,000–but then again the sale will benefit science, math, engineering, and technology education in Detroit Public Schools.
For days after the auction closed, the question of who would pay that much for what amounts to a four passenger, midsize sedan with really cool technology went unanswered. Some speculated that perhaps it was renowned car enthusiast Jay Leno or some other Hollywood bigwig, but when the answer was finally revealed it came in the unexpected package of NASCAR team owner, Rick Hendrick.
Hendrick is owner of Hendrick Motorsports and chairman of Hendrick Automotive Group. When combined, his racing teams–including one piloted by Dale Earnhardt, Jr.–have earned more than 185 NASCAR Cup Series victories, making Hendrick only the second team owner in modern NASCAR to earn that credit.
"This was an opportunity to own a piece of history while giving back to the community," said Hendrick. "I have been a Chevrolet dealer for more than 30 years, and the Volt is one of the most exciting and important new cars since we opened our first dealership in 1976."
The Volt that Hendrick bought was the second production Volt off the line–the absolute first one will be installed as a permanent exhibit piece at General Motors' Heritage Center in Michigan. Hats off to Hendrick that is an awesome donation!