Waterfront Rescue Mission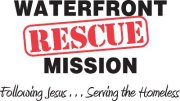 Waterfront Rescue Mission was created to spread the Good News of Salvation through Christ by serving the needs of the poor, addicted, abused and homeless. Through our various programs, we help these men and women improve the quality of their lives by producing real change through the love of Christ. We are determined to provide compassionate help, individual attention and a plan for success.
Vehicle Donation Quotation Form
Please note: By filling out the form below you are not committed to donating your car. Filling out this form will allow us to contact you with a quote on the price the charity of your choice will receive for your vehicle. All personal data is kept strictly private and will never be sold.