Recycling for Food Inc.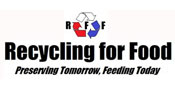 At Recyclling for Food our dual-purpose mission fills the needs of helping to conserve resources and feeding people in need. Many recyclables are still being discarded today, and we can use them to provide funds to buy food. With wise use of these funds there should be no need for anyone to go hungry.
Vehicle Donation Quotation Form
Please note: By filling out the form below you are not committed to donating your car. Filling out this form will allow us to contact you with a quote on the price the charity of your choice will receive for your vehicle. All personal data is kept strictly private and will never be sold.