Friends of Manchester Animal Shelter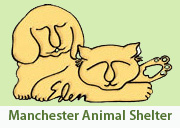 The Friends of the Manchester Animal Shelter (FMAS), is a non-profit organization comprised almost entirely of volunteers. The shelter takes in stray and homeless animals, providing medical treatment, food, and shelter. Our in-house spay/neuter program assures that every animal that passes through will no longer contribute to the city's pet overpopulation problem. We are especially proud that the animals at our shelter are not needlessly euthanized. We have learned that there is a loving home waiting for every animal, even the old ones... sometimes it just takes awhile to find it.
Vehicle Donation Quotation Form
Please note: By filling out the form below you are not committed to donating your car. Filling out this form will allow us to contact you with a quote on the price the charity of your choice will receive for your vehicle. All personal data is kept strictly private and will never be sold.