iDonate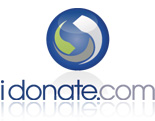 idonate.com is a charity. We attempt to maximize the value of the gifts charities receive while minimizing the costs to achieve that goal. We understand how important the donor experience is and how important their gift is to the charity. idonate.com is a supporting organization of the Servant Christian Community Foundation (SCCF).
Vehicle Donation Quotation Form
Please note: By filling out the form below you are not committed to donating your car. Filling out this form will allow us to contact you with a quote on the price the charity of your choice will receive for your vehicle. All personal data is kept strictly private and will never be sold.