GODOT ANIMAL SANCTUARY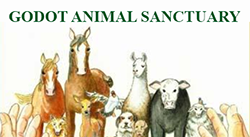 GODOT ANIMAL SANCTUARY, founded in 1991, is a Federal and State Certified Charitable Organization for Animal Welfare. We are dedicated to the care and welfare of abused, injured, displaced, and disabled animals of both domestic and wildlife species. We strive to foster respect, kindness, and responsible stewardship for all living creatures.
Vehicle Donation Quotation Form
Please note: By filling out the form below you are not committed to donating your car. Filling out this form will allow us to contact you with a quote on the price the charity of your choice will receive for your vehicle. All personal data is kept strictly private and will never be sold.