Friends of Retired Greyhounds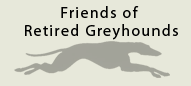 We strive to find loving forever homes for retired Greyhounds and to work to educate the public about the breed as well as the life that the greyhounds live as professional athletes. Our kennels are very loving and thoughtful to their dogs and we work hard to undo some of the unpopular beliefs about the racing kennels.
Vehicle Donation Quotation Form
Please note: By filling out the form below you are not committed to donating your car. Filling out this form will allow us to contact you with a quote on the price the charity of your choice will receive for your vehicle. All personal data is kept strictly private and will never be sold.