Feeding America Tampa Bay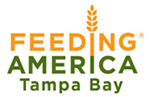 Feeding America Tampa Bay is a food bank, a member of the national Feeding America food bank network, and we service 10 counties in west central Florida. Since we began in 1982, we have processed and distributed 100 million pounds of safe and nutritious surplus food to those who need it most.
Vehicle Donation Quotation Form
Please note: By filling out the form below you are not committed to donating your car. Filling out this form will allow us to contact you with a quote on the price the charity of your choice will receive for your vehicle. All personal data is kept strictly private and will never be sold.