Bais Abraham Congregation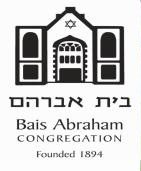 Bais Abraham is nationally known as one of the unique Orthodox-affiliated communities in the country. It is a community in which Yeshiva-educated Orthodox Jews pray side by side with families just beginning to explore tradition. It is home to families with young children as well as elderly Holocaust survivors & a growing number of observant college students, graduate students, and faculty from our neighbor, Washington University.
Vehicle Donation Quotation Form
Please note: By filling out the form below you are not committed to donating your car. Filling out this form will allow us to contact you with a quote on the price the charity of your choice will receive for your vehicle. All personal data is kept strictly private and will never be sold.