Arizona Animal Welfare League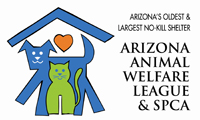 Founded in 1971, The Arizona Animal Welfare League and SPCA is the state's oldest and largest no-kill shelter. Our shelter facilities provide a temporary home for nearly 2,000 dogs and cats every year, offering medical and behavioral treatment for those in need. The mission of the Arizona Animal Welfare League and SPCA is to provide excellent care, protection and loving compassion for the life of the animals entrusted to us and to take a leadership role in promoting humane values for the benefit of all animals and people.
Vehicle Donation Quotation Form
Please note: By filling out the form below you are not committed to donating your car. Filling out this form will allow us to contact you with a quote on the price the charity of your choice will receive for your vehicle. All personal data is kept strictly private and will never be sold.